This beef wellington recipe is ideal for a festive feast in your own home, so get out your finest tablewear fitting for such a magnificent dish as chef Colin Dempsey's beef wellington.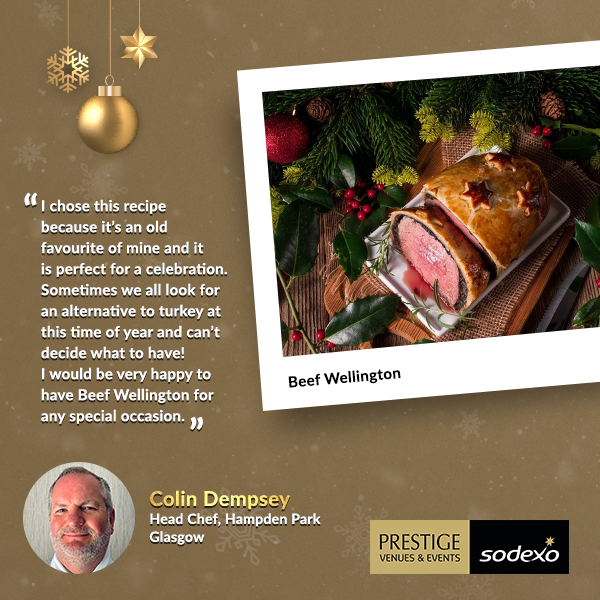 Crispy on the outside, and tender in the middle, serve it with a selection of seasonal vegetables and dauphinoise potatoes to create a dish that's succulent in flavour and well complimented all round.
Serves: 6 people 
Vegetarian Friendly: No 
Vegan Friendly: No 
Top Tip: Do step 1 the night before you want to prepare your dish. This will involve chilling the beef in the fridge whilst wrapped in clingfilm to set its shape. 
Ingredients 
3 x 400g beef fillets 
Olive oil, for frying 
750g mixture of wild mushrooms, cleaned 
1 thyme sprig, leaves only 
750g puff pastry 
12 slices of Parma ham 
3 egg yolks, beaten with 1 tbsp water and a pinch of salt 
Sea salt and freshly ground black pepper 
Sauce 
2 tbsp olive oil 
200g beef trimmings (ask the butcher to reserve these when trimming the fillet) 
4 large shallots, peeled and sliced 
12 black peppercorns 
1 bay leaf 
1 thyme sprig 
Splash of red wine vinegar 
1 x 750ml bottle red wine 
750ml beef stock 
Method                                                                                                                                                
Wrap each piece of beef tightly in a triple layer of cling film (this will set its shape), then chill overnight. 

The following day, quickly sear the beef fillets in a hot pan with a little olive oil for 30-60 seconds until browned all over and rare in the middle.  

Remove from the pan and leave to cool. 

Finely chop the mushrooms, then fry them in a hot pan with a little olive oil, the thyme leaves and some seasoning.  

When the mushrooms begin to release their juices, continue to cook over a high heat for about 10 minutes until all the excess moisture has evaporated. You will be left with a mushroom paste, known as a duxelle.  

Remove the duxelle from the pan and leave to cool. 

Cut the pastry in half, place on a lightly floured surface and roll each piece into a rectangle large enough to envelop one of the beef fillets. Then chill it in the refrigerator. 

Lay a large sheet of cling film on a work surface and place 4 slices of Parma ham in the middle, overlapping them slightly, to create a square. Spread half the duxelle evenly over the ham. Season the beef fillets, then place them on top of the mushroom-covered ham. Using the cling film, roll the Parma ham over the beef, then roll and tie the cling film to get a nice, evenly thick log. 

Repeat this step with the other beef fillet, then chill for at least 30 minutes. 

Brush the pastry with the egg wash.  

Remove the cling film from the beef, then wrap the pastry around each ham-wrapped fillet. Trim the pastry and brush all over with the egg wash.  

Cover the wellington with cling film and chill for at least 30 minutes. 

Meanwhile, make the red wine sauce. Heat the oil in a large pan, then fry the beef trimmings for a few minutes until browned on all sides.  

Stir in the shallots with the peppercorns, bay and thyme then continue to cook for about 5 minutes, stirring frequently, until the shallots turn golden brown. 

Pour in the vinegar and let it bubble for a few minutes until almost dry.  

Now add the wine and boil until almost completely reduced. Add the stock and bring to the boil again.  

Lower the heat and simmer gently for 1 hour, removing any scum from the surface of the sauce, until you have the desired consistency.  

Strain the liquid through a fine sieve lined with muslin then check for seasoning and set aside. 

When you are ready to cook the beef wellingtons, score the pastry lightly and brush with the egg wash again, then bake at 200°C/Gas 6 for 15-20 minutes until the pastry is golden brown and cooked.  

Rest the wellington for 10 minutes before carving. (Meanwhile, reheat the sauce)  

Serve the beef wellingtons sliced, with the sauce as an accompaniment. 

 Feel free to serve your delicious beef wellington with an array of vegetables and potatoes of your choice. Dauphinoise potatoes go particularly well. Tender-stem broccoli and brussels sprouts can make an excellent vegetable accompaniment too to give that real festive feeling!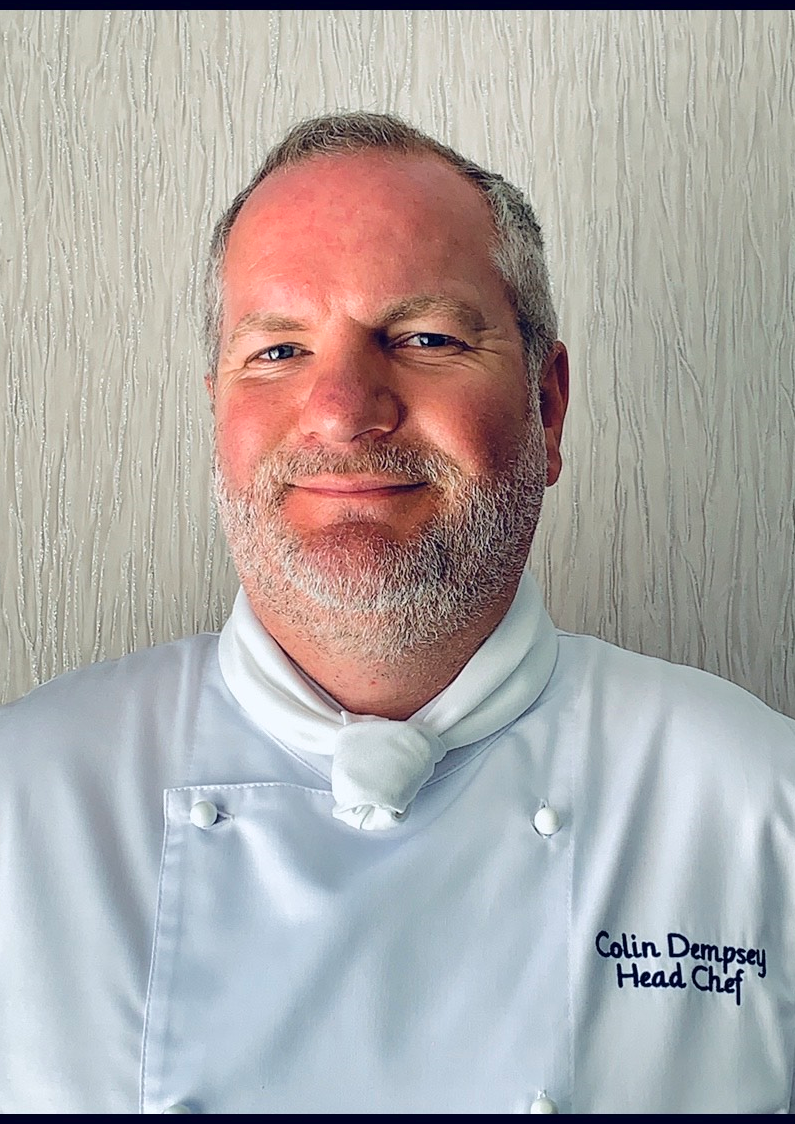 "I chose this recipe because it's an old favourite of mine and it is perfect for a celebration. Sometimes we all look for an alternative to tTurkey at this time of year and can't decide what to have! I would be very happy to have Beef Wellington for any special occasion."           
Recipe by: Colin Dempsey, Head Chef at Hampden Park, Scotland's National Stadium.                                                                                                                                              
About Colin: Colin Dempsey, Head Chef at Hampden Park, has over 22 years experience in food and hospitality. Colin has worked across various hotels, restaurants and football stadia around Scotland, paying homage to the nations local favourites and using the best Scottish ingredients possible, including his must have kitchen item, good quality Scottish rapeseed oil.