Whilst oysters are most probably best known for being an aphrodisiac, they are a food that many have either tried and loved or not tried at all. This recipe, which you can follow to grill your oysters, tops them with Emmental cheese, allowing the texture of the oyster to change so that its more palatable for those first timers but also adds a nice flavour to the oysters themselves.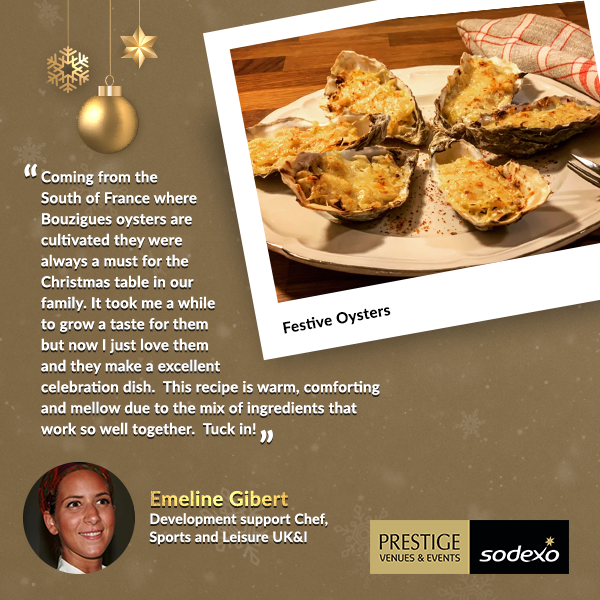 Give this grilled oysters with cheese recipe a try this Christmas and hopefully you can convert more of your guests to the delectable joy of oysters in the future!
Serves: 6 people
Vegetarian Friendly: No
Vegan Friendly: No
Ingredients
6 oysters (Chef Emeline suggests Cornish, West Mersea, Carlingford)
10g unsalted butter
60g chopped leek
20g diced shallot
25ml white wine preferrably Sauvignon Blanc
15g crème fraîche
1gr sea salt
1gr freshly ground pepper
10g grated Emmental cheese
A sprinkle of piment d'Espelette or chilli (for a bit of a kick - optional)
Method
In a saucepan slowly melt the butter.

Add the shallots and switch to a medium heat. Be sure to let the shallots turn translucent, as you don't want them to be undercooked.

 Add the leeks, then salt and pepper to taste.

Add the white wine, and reduce until fully evaporated.

Stir in the crème fraîche, then taste to check the seasoning and adjust based oo  preference

Turn the griill on  to 250 degrees.

Open the oysters and release them from the shell. Carefully remove the liquid on the top.

Add one spoon of your leek mixture to the top of the oyster, then top up with some grated Emmental.

Grill the oysters in the oven for 6minutes on the top shelf.

Et voila, the evening is yours—a simple, yet magnificent, dish, sure to knock your partner's socks off!
"Coming from the south of France where Bouzlgues oysters are cultivated meant that oysters were always a must for the Christmas table in our family. It took me a while to grow a taste for them but now I just love them and they make an excellent celebration dish. This recipe is warm, comforting and mellow due to the mix of ingredients that work so well together.
It is also a good recipe for those trying oysters for the first time, with lots of health benefits being rich in zinc, iron and vitamin B12 and vitamin D, as well as being a famous aphrodisiac!"
Recipe by: Emeline Gilbert, Development Support Chef, Sports and Leisure UK&I