We know that these difficult times have made it really hard for couples looking to get married but that the desire to do so is stronger than ever so we thought we would set up a monthly feature to share with you the wonderful wedding venues that the PV&E portfolio has to offer to give you some food for thought when planning your dream wedding.
Whether you are looking for ideas for hosting a small ceremony and celebration in line with the current restrictions or planning ahead for a big event to share with all your family and friends, when circumstances allow, we have something to excite everyone.
Wedding Venue of the Month – October 2020
This month we are featuring the beautiful The Signet Library in Edinburgh
The Signet Library is one of Edinburgh's finest Georgian buildings in the very heart of the historic old town, offering an exclusive and utterly unique setting for a wedding. Just a stone's throw from St Giles Cathedral, is the unique wedding venue of choice for brides and grooms who are searching for a magical combination of a breathtaking setting, gorgeous design and details and perfect hospitality.
The Lower Library is an elegant setting for a wedding ceremony. The wonderfully long aisle is a suitably grand space for the solemnities, and to show off a bridal train. It is also the perfect space for a drinks and canapés reception, or for tea and coffee service and cake cutting after the wedding breakfast, or a truly magnificent setting to simply welcome evening guests.
A stunning grand staircase leads guests to the Upper Library which can accommodate 50-220 guests for any type of reception from a wedding breakfast to an evening affair. With a built in PA system and wooden dance floor, this part of the Library is ideal for wedding speeches and, naturally, dancing the night away with your guests.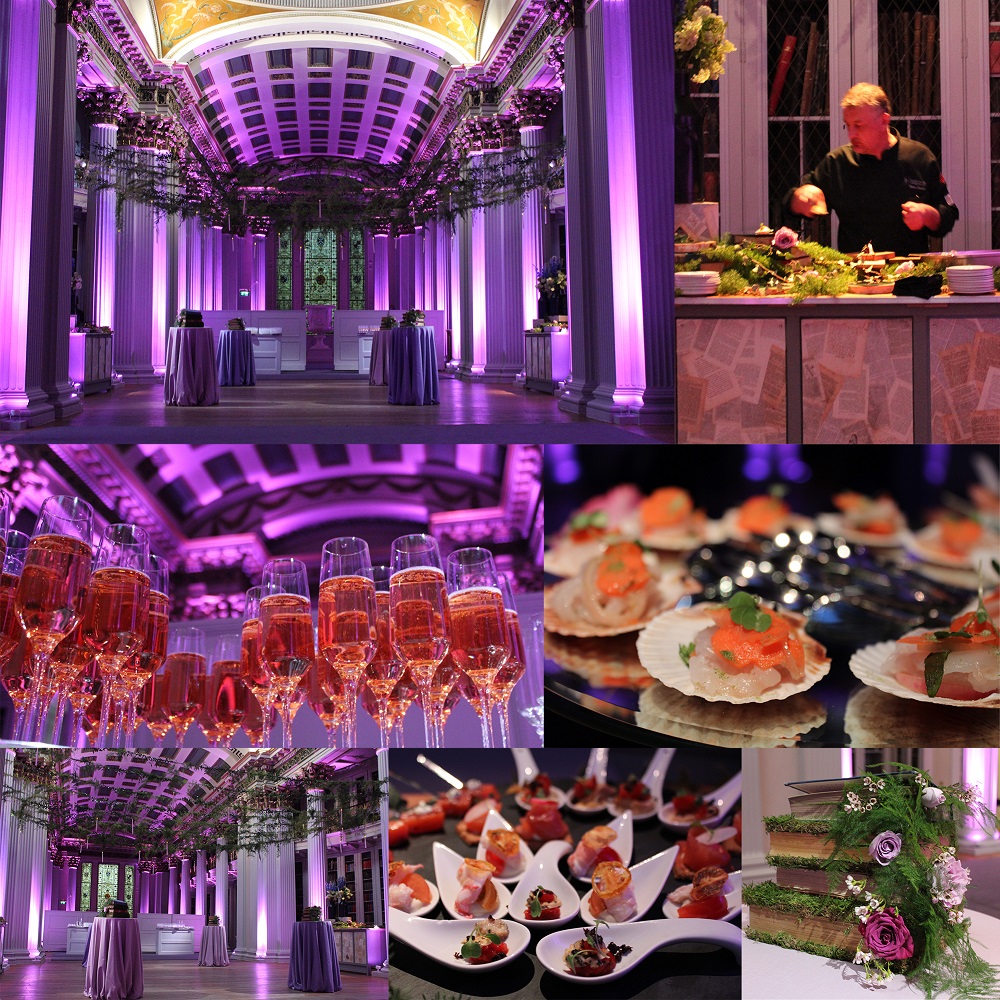 Famous for:
Its understated elegance
Romance – a venue of dreams
Keeping a finger on the 'foodie pulse' with creative menus from the Heritage Portfolio team
Practicalities:
Multifaceted venues therefore very flexible
City centre location with great transport links and accommodation
Licensed for civil, religious and humanist ceremonies
Several rooms to accommodate nuptials of any scale
Special Touches:
A great group photo opportunity leading up the grand staircase, it's an excellent spot to use as a backdrop for couple portraits and also group photos with all guests, a keepsake moment when couples are surrounded by all their guests in one special shot.
The wedding breakfast takes place in the Upper Library under the cupula which is decorated by Thomas Stothard's nine muses and the library includes notable authors including Scotland's own romantic Robbie Burns and Shakespeare, author of one of the biggest love stories we know!
When day turns to night the Upper Library is turned around for the evening celebration and the scene is set for the ultimate first dance and a night of partying
The Library is a bit of an oasis in the heart of a bustling city, once inside it's very quiet and beautiful for a romantic ceremony. People don't realise it's there but once you've experienced a wedding at the Signet Library you won't forget it!
 
Wedding Offers at The Signet Library
If you are looking for a small intimate wedding celebration to fit with the current government restrictions on numbers then take a look at the Upper Library wedding package designed for up to 20 guests.
For a virtual tour of the venue click here
For more information please contact our Hub Team – click here