Congratulations on your recent engagement, this is one of the most exciting times of your life: planning your wedding. With beautiful summer sun beginning to warm the weather in the UK, it's the perfect time to be thinking about your wedding, arranging every detail from decorations and dancing, down to dresses and dining. One of the most important parts of planning your summer wedding, is the location, as your wedding venue will play a large role is setting the backdrop to your special day; whether it be romantic gardens or sporting grounds, we have something for you. Whether you're hosting a small ceremony, keeping it intimate with friends and family, or planning ahead for something more extravagant in the future, we can cater to your needs. This month, we'll be taking a look at the stunning Hamilton Park Racecourse, one of our finest wedding venues to hire, Glasgow.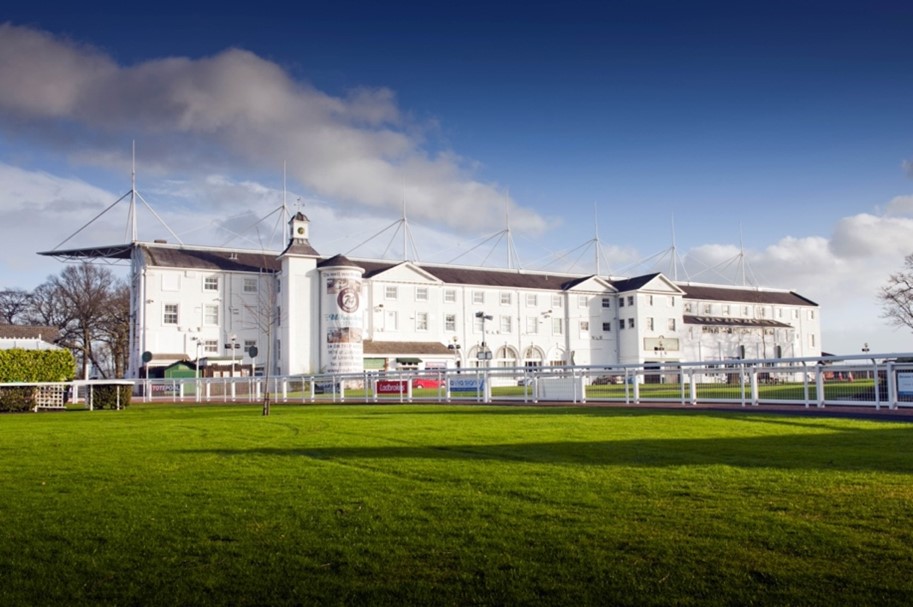 Hamilton Park Racecourse is located only twenty minutes from the Scottish city of Glasgow, situated amidst a stunning 20 acres of secluded grounds. In Hamilton, South Lanarkshire, the venue has a prestigious reputation for hosting stunning wedding events. Rated 5 Star on VisitScotland, the racecourse is of highest quality. With an onsite hotel, the Hampton by Hilton, you'll be comfortable and well cared for. Our experienced team are ready to welcome you through the doors, to one of Scotland's finest venues. The marvellous architecture of the grand central building, along with the green lawns of the racetracks make for a stunning setting. Enjoy a champagne reception in the sun, upon the manicured lawns; your wedding photos will not disappoint, when you choose Hamilton Park, racing course wedding venue in Glasgow.
Facilities
Hamilton Park Racecourse is fully licensed for wedding ceremonies, with available rooms such as the Sprinters, Parade Ring and Weighing Room Gardens, available for the perfect matrimony. You can invite up to 240 guests into the space of the grounds for your ideal ceremony and reception, since the marquees offer catering for large wedding ceremony venue hire. As a sporting wedding venue, you can expect excitement and individuality from the grounds, as you celebrate with a view over the racecourse. Hamilton Park Racecourse offers the option for an outdoor wedding ceremony, at the Weighing Room Gardens, perfect for making your dream day come true. The racecourse caters to intimate wedding ceremonies, Asian weddings, and large parties alike. We're here to make you happy.
The 118-bedroom Hampton by Hilton Hamilton Park Hotel offers panoramic views of the racecourse and is the perfect place for you and your guests to stay after a day of celebrations. Offering a variety of wedding packages, your attendees are sure to be amazed. The wedding package includes a three-course wedding breakfast, a glass of prosecco for the speeches, and an evening buffet, amongst many other perks, starting at £65 per person.
Catering
As a team of expert chefs and avid food lovers, we can guarantee that your wedding guests will delight in our delicious dinners. We can provide wedding breakfasts, or brunches, as well as rehearsal dinners and bubbly upon arrival, whatever the special touches may be, just let us know of your request. We source fresh, seasonal produce, so that our chefs are able to put the same amount of care into each dish.  
Famous For
Stunning views
Easy access to the location
Secluded, country grounds
Beautiful events rooms
Outdoor and indoor ceremonies
Unforgettable experiences
Practicalities
1,000 Complimentary car parking spaces
Exclusive hire available on request
Under 20 minutes from Glasgow
20 acres of secluded grounds
Licensed for wedding ceremonies
Under an hour from Edinburgh
Onsite hotel
Packages for day guests starting at £65
Wedding breakfasts and buffets available
Special Touches
Hamilton Park wedding venue offers beautiful special touches, such as an onsite hotel, as well as exclusive hire available on request. As a premier sporting and events venue, there are a multitude of rooms to choose from, that can be decorated to suit your desires. Just speak to our team, who will be happy to help you make your dream become a reality. Whether you want flowers, fairy lights, or a chocolate fountain, the Hub are here to make it happen, with your summer wedding at Hamilton Park Racecourse.
For more information, please contact our Hub Team – click here