Looking for a delightful and warm thanksgiving recipe this year? If you're after something that's traditional to thanksgiving and enjoyed by Americans for many years then check out our beautifully presented Pumpkin Pie recipe.  This pie will be sure to wow your loved ones at home and beyond this Thanksgiving 2020.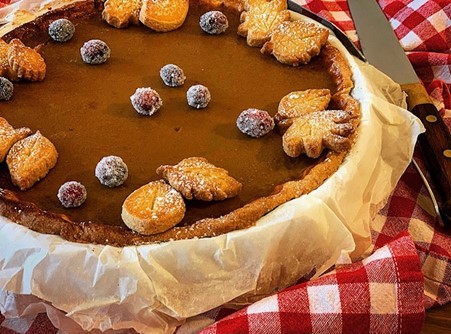 Preparation Time:  1 hour and advanced overnight to let the dough rest in fridge
Cooking Time: overall tart itself and pumpkin puree 2hours
Vegetarian Friendly: Yes! 
Vegan Friendly: Yes, if you remove the butter and eggs and replace with solid (not melted) coconut oil for the dough with a pinch of iced water. For the pie filling, remove the eggs and substitute with unsweetened coconut milk, but be mindful that you don't want to have coconut water at the bottom of the tin being used, just the coconut paste itself.
Ingredients you will need for this pumpkin pie recipe
For the pumpkin filling:
3 larges Free- Range eggs
450g pumpkin puree - I use Crown prince pumpkin- cut in chunks, 200 degrees covered with foil for 45mn no oil no seasoning, then remove foil and an additional 15mn; this will help to remove moisture, you don't want colour on the pumpkin. Blend it well to have a smooth fine finish
200g dark brown sugar
8g corn-starch
3g cinnamon
1g ground ginger
0.5g ground nutmeg
0.25g ground cloves
0.25g fresh ground pepper
2g sea salt
60ml whole milk
240ml double cream
For the crust base:
500g plain flour
130g icing sugar
100g almond powder
250g unsalted butter (room temperature)
2 larges Free- Range eggs+ 1 for the egg wash with a tiny splash of water or milk
The method
Let's start with the base. Super easy if you use a mixer with the paddle attachment and takes only a couple of minutes.
Put all dry ingredients in the mixer bowl, add little by little the soft butter, you will see it will start to look like sand, this is the texture that we want. Once its all looking very "sandy" add both eggs and the mixture come together forming a ball around the paddle.
Remove the dough from the bowl, wrap it up in cling film and leave it to rest in the fridge for a couple of hours or even overnight if you are planning in advance for your thanks giving meal.
When you are ready, take out the dough from your fridge and leave it at room temperature for 20 to 30 minutes so that the dough softens and is easier to roll out.  
Turn the oven on and set it to 160 degrees. Take your pie or tart dish, and lay baking parchment inside it.
Next, using some of the plain flour, lightly flour your work surface, then take and roll the dough out into a circle. The dough should not be rolled out too thick, or too thin. As a guide, aim for around ½ cm in thickness as a guide. Once the dough has been rolled out, use your rolling pin to carefully transfer the dough to your pie or tart dish for baking. Tuck it carefully into the dish with your fingers, and if it breaks don't worry, just take a piece of the dough and fill up the hole, no one will ever know!
Crimp the edges of the pie with a fork or your fingers and with a fork prick the bottom of the tart, that will help diffuse the heat throughout, then put another layer of baking parchment and fill with pie weights. If you don't have pie or tart weights to hold the parchment down you can use coarse sea salt or dry chickpea or beans as a substitute.
Put the base in the oven and bake it at 160 degrees for 20 minutes. After 20 minutes, Gently remove the weights and baking parchment and cook the base for a further 10 minutes. After a total of 30 minutes, take the base out of the oven and let it cool outside, then brush with your egg wash mix. This will help to protect the dough from getting soggy with the wet mix. Congratulations, your pie crust is now ready to be filled with pumpkin!
A helpful tip – if you find you have left over dough at this point,  you can either freeze it or make some little sable cookies to decorate the top of your pumpkin pie. Simply cut out little shapes, brush them with your egg wash mix and bake them for 15 minutes at 180 degrees in the oven. Something to keep you and little ones busy during rainy days for sure!
Next, we prepare the crown jewel of our pie, the pumpkin filling. In a large bowl, whisk together the pureed pumpkin, egg and brown sugar until well combined. Add the corn-starch, spices, milk and the cream. The filling will be a bit thick; this is absolutely normal, so don't worry.  
Next, preheat your oven at 170 degrees and get ready for baking! Whilst the oven heats up, carefully pour the pumpkin filling into the tart case and transfer very carefully in your oven, baking it for 50 minutes. The centre might be slightly running when you take the pie out, but this is fine, and with time to cool the filling will settle.
A helpful tip – keep an eye on the pie filling from time to time to ensure the pumpkin mixture doesn't crack. If your filling starts to crack, this means that your pumpkin pie is starting to overcook and may not be as amazing as it should be!
Finally, once cooked, remove the pie from the oven and let it cool for a couple of hours. To finish, decorate the star of your thanks giving meal with little pie crust leaves, some icing sugar sprinkled on the top and serve it with some whipped cream on side (if desired). Voila! A thanks giving pudding for you all to feast on and enjoy!
Recipe by : Emeline Gilberts,  Head Chef at Bateaux London