This festive scallop ceviche recipe  brings fine dining to your home, so set a fire and get cosy, as you're bound to love the zesty flavour of lemon and lime to brighten those dark winter days. Originally a Peruvian recipe, the citrus marinade that flavours the scallops is referred to as 'Tiger's-Milk'—a truly exotic twist on Christmas cuisine. Bon appetite!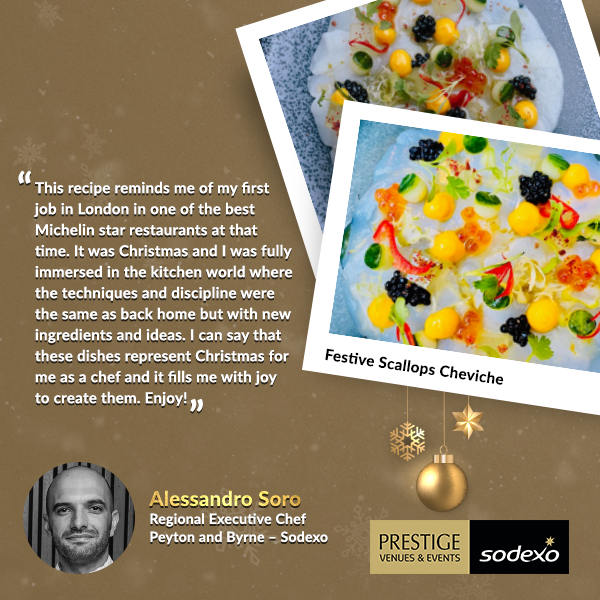 Serves: 6 People
Vegetarian Friendly: No
Vegan Friendly: No
Top Tip: Putting the chilli and spring onions in iced water gives them their curly shape for garnishing.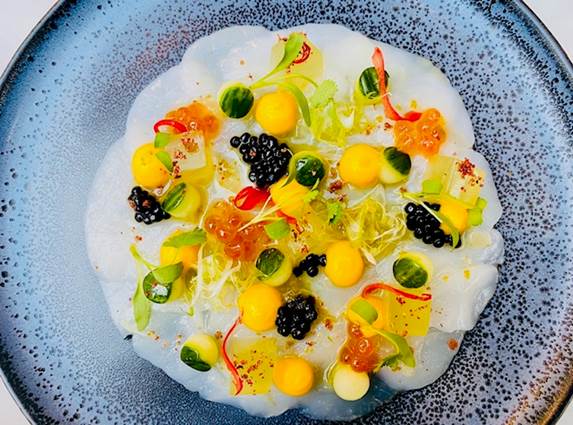 Ingredients
Ground white pepper
Pink cracked peppercorn
1 shallot
2 limes
Scallops:
12 large scallops cleaned from the coral (known as roe)              
1 small jar of salmon roe
1 small jar of lumpfish caviar black
Lemon Jelly:
120g water
15g caster sugar
15g of gelatine leaves (soaked in ice water)
40g of fresh lemon juice
2g of flaked sea salt
120g water
Ginger Purée:
1 large (150g) carrot
10g unsalted butter
10g water
10g extra virgin olive oil
10g fresh ginger juice
1g flaked sea salt
Vegetable Garnish:
1 cucumber
One bunch of coriander, or parsley tops
1 red chilli
2 spring onions
Dressing:
85g white wine vinegar
60g caster sugar
Zest of 1 lime
60g of limejuice
60g of extra virgin olive oil
20g of shallots brunoise (diced)
10g of finely grated fresh ginger
Method
Scallops
Begin by drying the scallops with a cloth.
Once dry, slice the scallops and lay them out on a plate. Using a sharped knife, slice the scallops from the top to bottom, putting each slice on a plate to form a ring, with a diameter of 4/5 inches (this can vary depending on how thin the slices are).
For each plate use two scallops, but if they're small then use three.
Once all the 6 plates are done, cover them in cling film and place it in the fridge.
Dressing
Mix together the white wine vinegar with the caster sugar in a small pan, then warm it on a low heat until it has reduced to half the size.
Let the mixture cool, then transfer it into a small bowl.
Next, mix in the rest of the ingredients. Add the lime zest, lime juice, extra virgin olive oil, shallots brunoise and fresh ginger.
Season the dressing to your taste with sea salt and white pepper.
Whisk everything together and put aside to infuse whilst you carry on with the rest of the  preparation.
Lemon jelly:
To prepare for the jelly, ensure that your gelatine leaves have been soaked in iced water, then prepare a rectangular dish lined with clingfilm.
In a small cooking pot, make a syrup with the water and caster sugar. Mix them on a low heat on the hob.
Take it off the heat, and add the gelatine leaves, fresh lemon juice, and flaked sea salt.
Mix well, then pour the mixture into the container lined with clingfilm.
Put it in the fridge and let it set.
Once set, take out the gelatine and cut 30 dices (1x1cm) and put it back in the fridge for later.
Mild ginger purée:
Wash, peel and finely chop the carrot.
Place the carrot, water and butter in a pot on the hob and cover with a lid. Heat until braised.
When the carrot is still hot, place it in a mixing bowl and add the olive oil, fresh ginger juice, and flaked sea salt. (To make the ginger juice crush the ginger with a knife or in a blender.)
Mix using a hand blender until perfectly smooth. The purée will be a beautiful, bright yellow colour.
Let it cool a bit, then place it in a piping bag. Leave it in the fridge for later.
Vegetable garnish:
Start by washing all your vegetables.
Split cucumber into 60 balls, using a melon-baller scoop. (If you don't have a small melon baller the cucumber can be diced)
Pick and wash the coriander or parsley tops.
Cut and deseed half of the chilli, then slice it to get very thin strands, 2cm long. Leave the sliced chilli in iced water in the fridge.
Take the spring onions and slice it to match the chilli, then add it to the iced water in the fridge.
Assembling The Dish:
Take the scallop plates out of the fridge and season them with salt and pepper.
Mix the dressing well, then place a spoonful over each dish.
On each plate place 10 cucumber balls and 5 lemon jelly cubes. Sprinkle some of the pink peppercorns on top of each jelly cube.
Garnish with the sliced chilli and spring onions.
Add a few dots of the carrots and ginger purée to your dish, and scatter the caviar.
Garnish with the cress and parsley leaves, keeping the plate around the dish clean for beautiful presentation.
Your meal will become a vibrant array of orange, yellow and green. Scallops ceviche brings together the finest tastes from your fresh ingredients, so it'll be a true treat for the senses. Enjoy!
"This recipe reminds me of my first job in London in one of the best Michelin star restaurants at that time. It was Christmas and I was fully immersed in the kitchen world where the techniques and discipline were the same as back home but with new ingredients and ideas. I can say that these dishes represent Christmas for me as a chef and it fills me with joy to create them. Enjoy!
Recipe by: Alessandro Soro,Regional Executive Chef for Peyton and Byrne.