Our recipe for slow cooked Christmas ham will provide you with a restaurant quality starter, glazed in balsamic vinegar and served with a side of mulled cider jelly and cantaloupe.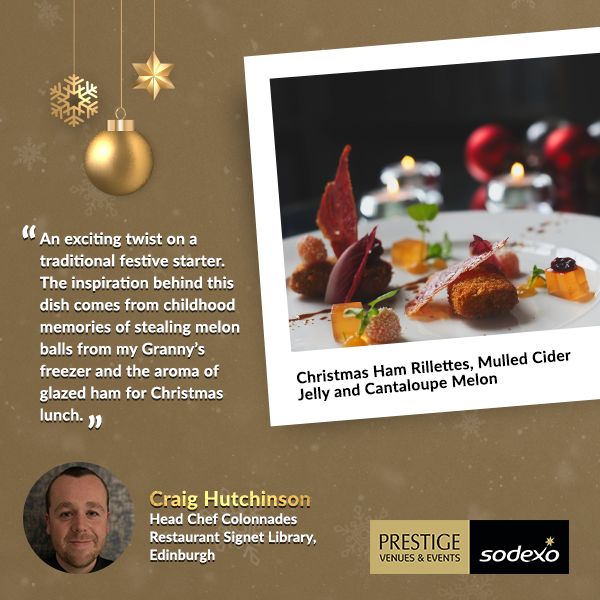 The presentation and flavours of this dish provide a really special atmosphere, setting the tone for what is to come next (take a look at the seasonal beef wellington recipe on our blog, for inspiration for a festive dinner to follow). Using a good joint of ham will ensure that the quality of the food delivers, as it'll bring out the fusions of well-cooked meat, alongside the festive hint of cloves, cinnamon and bay leaves.  
Chef Hutchinson says that the inspiration behind this dish comes from childhood memories of stealing melon balls from my granny's freezer and the aroma of glazed ham for Christmas lunch.  
Vegetarian Friendly: No 
Vegan Friendly: No 
Top Tip: This ham is slow cooked, so be sure to allow yourself time to let the flavours mellow and roast, before you're ready to serve. 
Ingredients 
Ham glaze   
2 tbsp marmalade 
100ml orange juice 
3 tbsp soy sauce 
1 tbsp English mustard 
3 star anise  
1 cinnamon stick  
10 cloves 
1 tbsp beef demi- glace 
75g dark brown soft sugar 
300ml cooking liquor 
Pane 
2 eggs  
50ml milk 
Seasoned plain flour  
Mulled Cider Jelly         
500ml cider            
0.5 vanilla pod  
1 star anise 
0.5 cinnamon stick 
3 cloves 
3 gelatine leaf  
Ham Hock 
4 ham hock  
3 star anise 
10 cloves  
1 cinnamon stick 
1 carrot 
1 onion 
A pinch of thyme  
2 bay Leaves  
Method 
Cook the ham hocks, vegetable, herbs and spices in simmering water for 3-4 hours until soft. The meat should be coming away from the bone.  
Remove from the stock and take the meat off the bone, and shred with your hands or two forks (keep some strained stock for the glaze).  
To make the glaze add the spices to 400ml of ham stock and simmer until reduced by half.  
Then add the remaining ingredients and bring to the boil, cook out for a couple of minutes so all ingredients have come together to make a syrup.  
Strain and discard the spices.  
Mix with shredded meat and set in lined tray or dish and be sure to compress this as it will be easier to cut. Chill in the fridge until set. 
To make the jelly, soak the gelatin leaves in cold water then add your favourite seasonal cider to a pan with all other ingredients. Bring the contents of the pan to the boil, and then mix with strained gelatin.  
Pass the mixture through a sieve and set it in a cling film lined dish in the fridge. 
Cut the ham into 2cm x 4cm pieces, then dip it in the seasoned flour, then the egg/milk mix then panko breadcrumbs. 
Take 1 cantaloupe melon, remove skin and seeds.  
Use a Parisienne scoop to ball the melon. This will be used for garnishing the plate.  
To make crispy Parma ham, place between two pieces of baking paper with a tray on top as a weight and bake at 185 degrees for 10 mins until crisp. 
To finish and plate, deep fry the ham in vegetable oil at 180 degrees until crisp and golden brown. These can also be shallow fried.  
Remove the jelly from the fridge and cut into cubes. Decorate the plate with some aged balsamic vinegar, Parma ham wafer, balled melon and chicory leaves. 
For this dish you can use melon gel, but alternatives could be chilled melon coulis (blend melon with icing sugar to taste) or melon salsa. Cranberry sauce is delicious with this starter so get creative and serve it how you like it. Enjoy!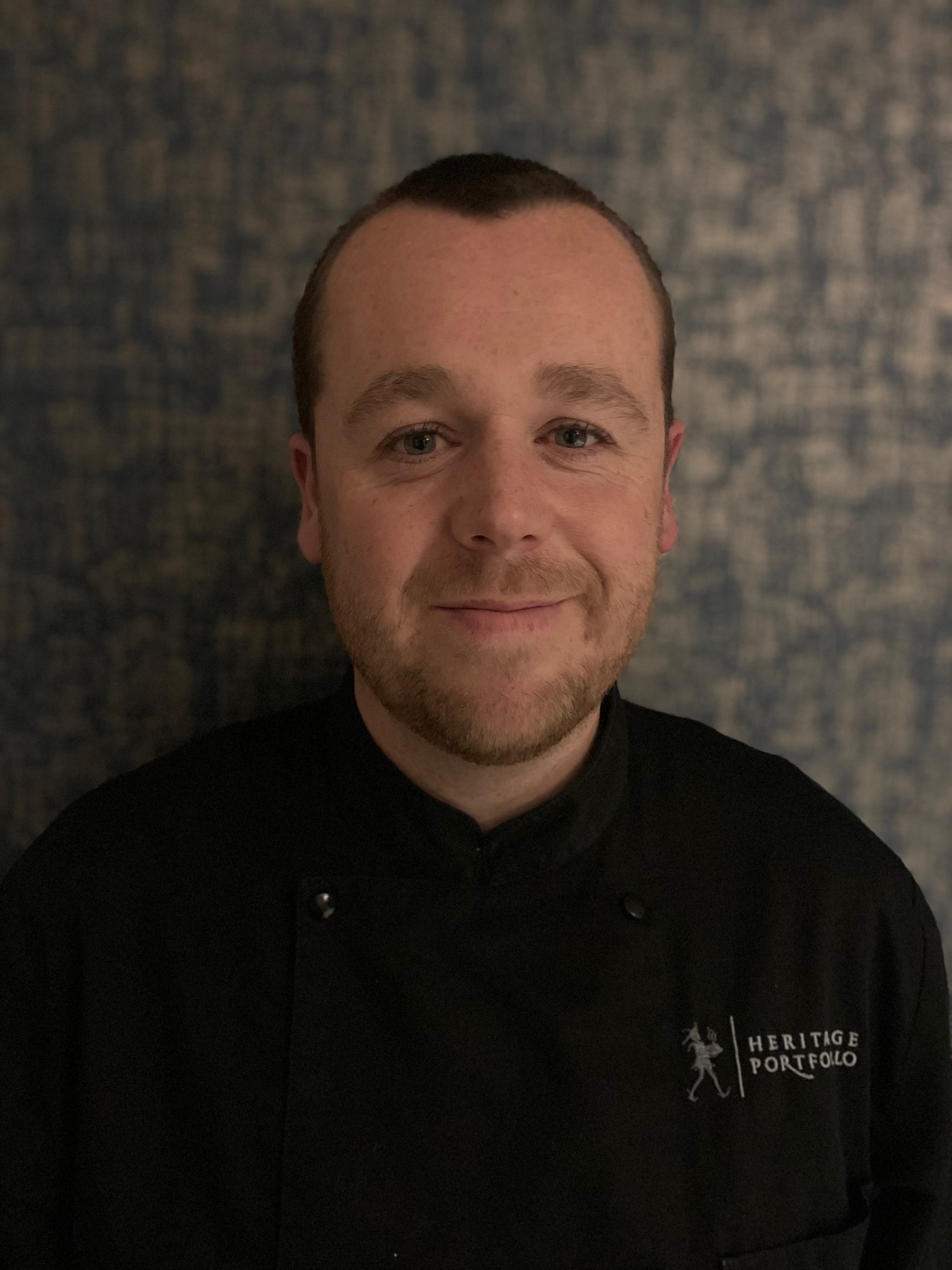 "An exciting twist on a traditional festive starter. The inspiration behind this dish comes from childhood memories of stealing melon balls from my Granny's freezer and the aroma of glazed ham for Christmas lunch." 
Recipe by: Craig Hutchinson, Head Chef, Colonnades at The Signet Library 
About the Chef: Craig Hutchinson is Head Chef at Colonnades, The Signet Library Edinburgh. With over 15 years experience in hospitality and 5 with Heritage Portfolio, Chris absolutely loves Beetroot and as his star ingredient you are guaranteed to find it featured on the menu somewhere.