This Christmas chocolate log recipe puts a personal twist on the classic Bûche de Noël, known as a 'yule log'.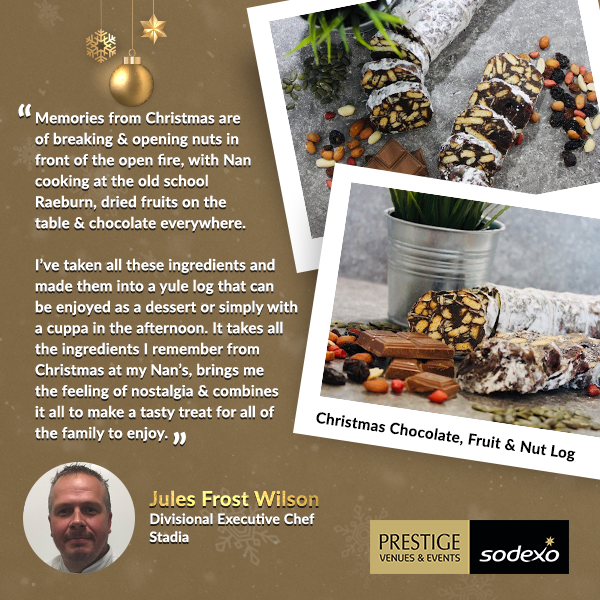 The recipe takes the traditional cake and turns it into a gorgeous chocolate treat packed with the textures of biscuits, cherries and nuts. We recommend a slice of this roll after dinner with a mulled wine, or a hot chocolate for the kids. Nestle up by the fire with your loved ones and share a slice of fruit and nut log. Delicious!
Serves: Makes one log 
Vegetarian Friendly: Yes 
Vegan Friendly: Yes, can be made vegan with vegetable oil butter instead of dairy. 
Top Tip: Add brandy for a boozy, tangy twist. 
Ingredients 
550gm broken digestive biscuits (approx. 1") 
170 gm glace cherries (cut in half) 
170gm sultanas 
100gm mixed nuts (peanuts, broken walnuts, pistachios, whole almonds) 
250gm dark chocolate (broken into pieces) 
225gm golden syrup 
225gm unsalted butter (diced) 
50gm icing sugar 
15ml brandy (optional) 
Method 
Place the broken chocolate, diced butter and golden syrup in a pan & over a low heat, then melt until smooth 
Remove from the heat & allow to cool for 5 minutes. 
Place the biscuits, fruit & nuts into a separate mixing bowl & combine.  
Pour chocolate, butter & syrup mix over the dry mix & stir in until everything is evenly coated. 
Now add the brandy if it suits your taste. 
Lay out the greaseproof paper (approx. 60cm long) on your worktop. 
Place the mixture along the centre to form a sausage/log shape approximately 30cm long. 
Roll the greaseproof around the outside, then twist both ends of the paper to pinch the mix tight and create a thick log. 
Place in the fridge & chill for a couple of hours. 
Remove from the fridge & take out of paper, and lightly dust the outside with icing sugar for a beautiful finish. 
Serve at room temperature, with your favourite accompaniments such as brandy cream or hot chocolate.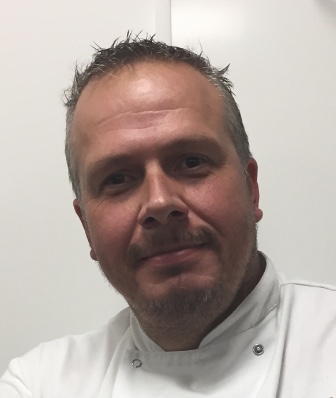 "Memories from Christmas are of breaking and opening nuts in the front of the open fire, with an cooking at the old school Raeburn, with dried fruits on the table and chocolate everywhere. 
I've taken all these ingredients and make them into a yule log that can be enjoyed as a dessert or simply with a cup of tea in the afternoon. For me it brings back a feeling of nostalgia & combines it all to make a tasty treat for all of the family to enjoy." 
Recipe by: Julian Frost, Divisional Executive Chef, Stadiam