Edinburgh is a renowned hub for culture, history and art within the UK. As a city on the coast of Scotland, it offers stunning areas of natural beauty alongside vibrant dining experiences and historical castles. You can visit the coast, trek up hills, or see sites such as Arthur's Seat and the memorials on Calton Hill. There's so much to do, not forgetting a good Edinburgh Gin, Scotch Whisky or Haggis treat. Whilst restrictions during the pandemic mean that travel and events are not possible, you can begin making your spring and summer plans for when venues safely open up again. It's never too early to cheer yourself up with a bit of browsing and information gathering, so be sure to check out our recommended locations and venues to make your 2021 events that extra bit more special…

The Signet Library is one of the most stunning and elegant Georgian buildings in the country. In Edinburgh's Old Town, it's embalmed with history and relics of the past. The Lower and Upper libraries were completed in 1822 in order to celebrate the visit of King George IV. The building was also home to one of the oldest professional bodies in the world: The Society of Writers to Her Majesty's Signet, a group of prestigious lawyers. The luxurious Upper Library is a destination definitely worth seeing, perfect for gala dinners, product launches, drink receptions and as a wedding venue in Edinburgh—it can hold up to 400 guests. Or if you're looking for something for a smaller group, they also offer a scrumptious afternoon tea renowned for being the best that Edinburgh offers. The pillars and gold-leaf décor are dazzling to look at, along with the endless art upon the ceilings. This is a truly spell-binding location. You won't regret a visit to this library, it's every book-lover's dream.
Royal Botanical Gardens Edinburgh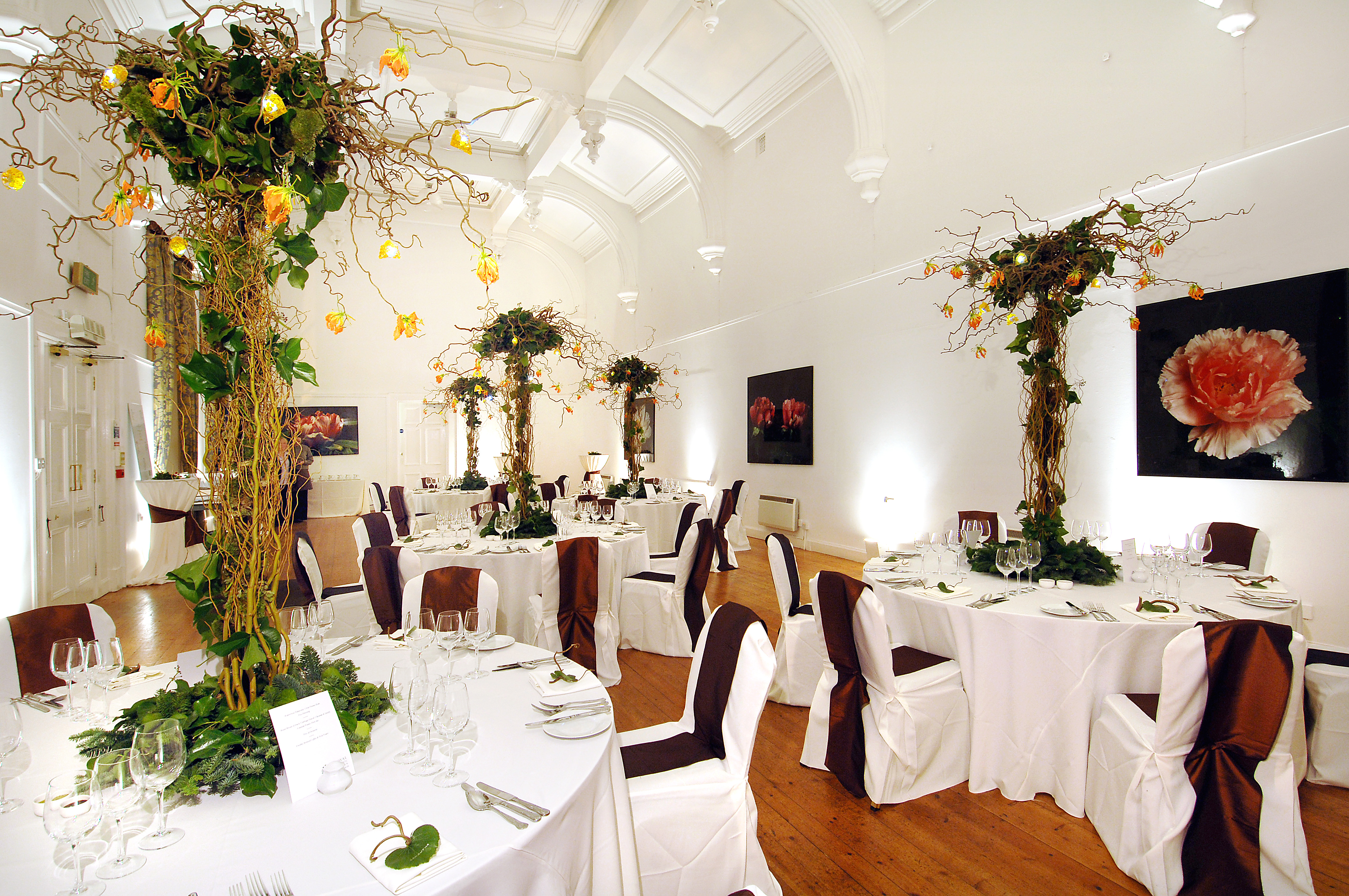 The Royal Botanical Garden, Edinburgh provides a fabulous  venue, in which you can return to nature. With seventy acres of exquisite gardens, the centre combines Victorian and modern architecture and scenery, depending on what you're looking for. Indoor and outdoor event spaces include the Caledonian Hall and Pavilion, The John Hope Gateway and terrace, and Inverleith Lawn Marquee. These make it the ideal location to host your events all year round, most especially corporate team building events, meetings, receptions and dinners. Mixing elegance, beauty and prestige, the centre boasts sustainable meeting areas, with a lecture theatre, wedding availability and marquee option. If you're looking for catering, you can expect a seasonal menu of expertly prepared dishes from local sources, adding that extra special touch. Whilst it's a paradise of trees, vines, flowers and greenery during the day, the venue turns into a this is only at Christmas replace with something about the outdoor BBQ terrace and pizza oven available for events there's so much to look forward to when you visit the Royal Botanical Gardens.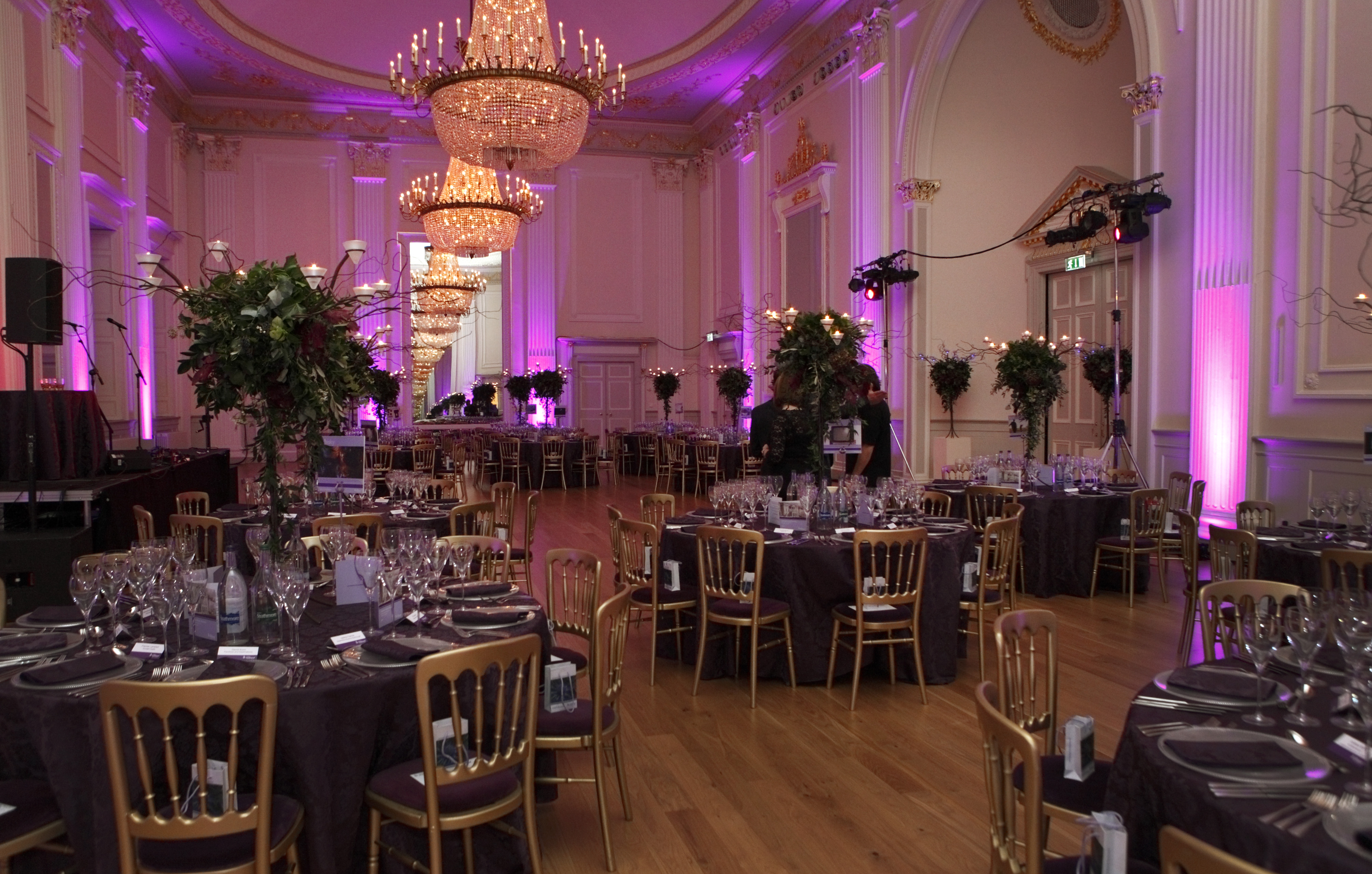 The 18th Century Assembly Rooms offer an enormous multi-purpose event space, catering to conferences, dinners, exhibitions, seminars and weddings. This venue will provide a truly memorable experience, with gold leaf on the walls, glittering chandeliers and gargantuan gilt mirrors. The traditional elements of the building are immaculately restored, whilst discreet modern technology makes your stay as easy and comfortable as possible. The venue boasts a seated auditorium music room, drawing rooms and a ballroom for events of your choice. You don't want to miss this world-famous meeting room in Edinburgh, only six miles from the airport, situated right in the heart of the city.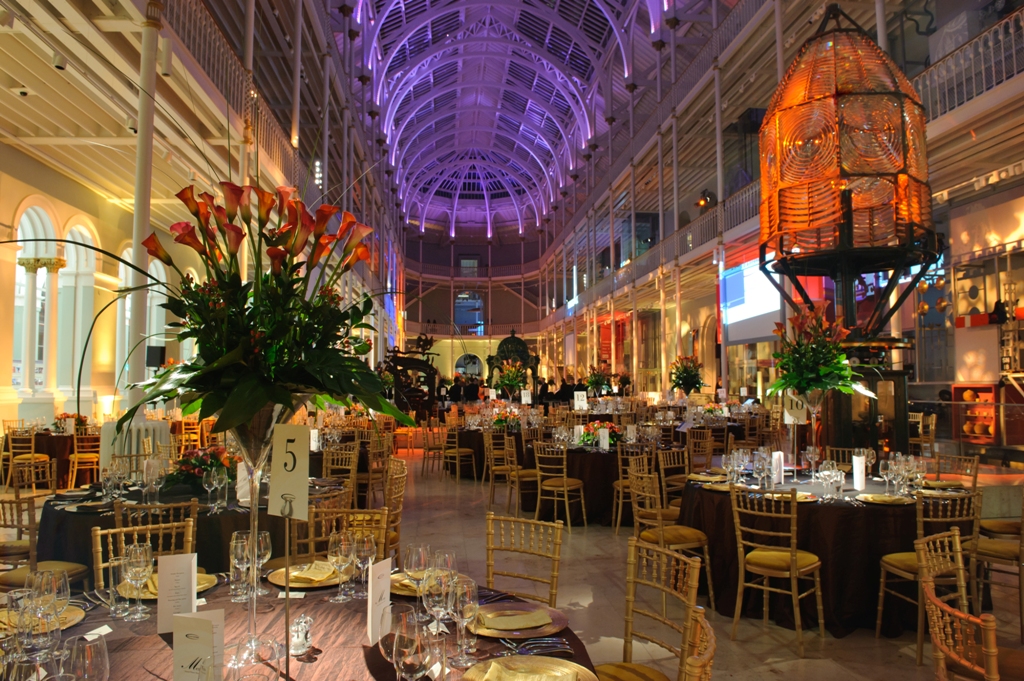 The National Museum of Scotland is an unrivalled location when it comes to hosting prestigious events. It's worth visiting for the collection of gallery spaces, along with private rooms, all situated within the stunning building in the heart of the city. You'll be immersed in history, art and culture all at once, moving through such an iconic building. The main rooms exhibit sculptures, white marble pillars, balconies, staircases and a stunning glass roof—the height of glamour and the perfect venue for corporate hospitality. If you're worried about transport then the National Museum is ideal, being only minutes from Waverly Station and providing quick links to Edinburgh Airport. Look no further for the perfect venue for your wedding, meeting or conference.

The Scottish National Gallery is a must-see when it comes to visiting Edinburgh. The venue consists of two buildings, the National Gallery (housing an exquisite collection of art) and the Royal Scottish Academy (renowned for international exhibitions). You'll be invited to enjoy cocktails, canapés and champagne whilst in the company of Rembrandts and Raphaels for your 2021 Christmas party. Impressionist rooms are available for smaller dining, whilst catering amongst the larger gallery rooms can seat up to 250 people. It's available for dinners, receptions or private views, or you may want to swing by simply to absorb the beauty of Boticelli, Vermeer and Titian masterpieces. They're even offering online exhibitions whilst the building is closed, so you don't need to worry about missing out until you can be there in person, just check out their website.
Scottish National Portrait Gallery

The National Portrait Gallery is located in the city centre, beside Calton Hill and near Edinburgh Castle. The neo-gothic gallery is one of the finest, offering stained glass windows, an astrological ceiling and gothic architecture. Designed by Sir Robert Rowand Anderson, the venue was designed to feature both heroes and villains, so depicts the likes of Mary Queen of Scots and Robert Burns, alongside modern-day Scottish figures. This luxury wedding venue boasts includes the Ramsay Room and the Great Hall, where guests can enjoy drinks before being seated amongst 18th Century masterpieces. It's truly a joy for art-lovers and novices alike, as there's so much to learn amidst the power of this great building.
All of these locations in Edinburgh offer unique charm and scenery, meaning they're all note-worthy locations when visiting Scotland. Be sure to prepare for your 2021 trip by browsing our beautiful venues and stunning grounds, where you'll be guaranteed excellent service and warm hospitality. There's something for everyone, from botanical gardens to beautiful ballrooms, and luscious lawns to luxurious libraries. Palaces, galleries and castles alike, they're all part of what makes Edinburgh such a special city.